How Klipfolio Builds a Data-Driven QA Team
Consumers and businesses alike depend more and more on software for success. It is essential to ensure products are high-quality, delightful, and reliable. Yet, according to the 2017-2018 World Quality Report, only 29% of executives expect their QA and software testing strategies to contribute to business development.
Too often, QA sits outside of development and business strategies -- making it challenging for teams to map their testing strategy and processes to overall business goals. But that is not the case with the team over at Klipfolio! We met up with Rod Begg, QA Specialist at Klipfolio and Rainforest QA user for a webinar and discussed how his team manages software quality using a data-driven approach.
Klipfolio Ties Their QA Strategy to Overall Business Goals
The Klipfolio QA team doesn't take an ad-hoc approach to software testing. Instead, they partner with Executive and Development teams and build their testing strategy around business goals and development needs.
Once they understand business goals and development needs, Rod's team uses the Objectives and Key Results (OKRs) framework to define their QA targets and outcomes.
Example of Klipfolio QA OKRs:
Objective (O): Improve Product Deployment Key Results (KR):
KR1 - Increase Deployments by 30%
KR2 - Decrease Cycle Time by 20%
KR3 - Increase End-to-End Success Rate by 20%
By mapping their QA strategy to top-line company goals then measuring its success, the team over at Klipfolio takes a strategic approach to software quality management and testing.
Klipfolio Effectively Measures Their QA Strategy Performance
An effective QA strategy is data-driven. After all, what can't be measured can't be improved. Yet many teams face challenges around successfully measuring the performance of their QA strategy and process.
To effectively measure QA performance, identify which metrics are important to your company's goals, then tie them back to your QA strategy and processes. Rod emphasized that "It's not how much you are measuring, but rather, what you are measuring." Rod also noted that his team tracks quality metrics in these four key areas in their development cycle:
Production Status
Pipeline Health
Number of Defects
Usability
Defining key areas of software quality success for your organization and establishing ways to track and measure them effectively, helps you have a more powerful QA strategy -- ultimately, driving business goals.
Klipfolio Communicates their Software Quality Results Internally
Industry expert and QA Consultant at Rainforest, Melissa Tondi, says that hiding information is one of the top 5 don'ts of software testing. Having clear communication about software quality performance across internal teams is key to QA success.
Rod's team leverages tools -- including their own product -- to track performance across their four key areas of success.
Example of Klipfolio QA Monitoring:
Production Status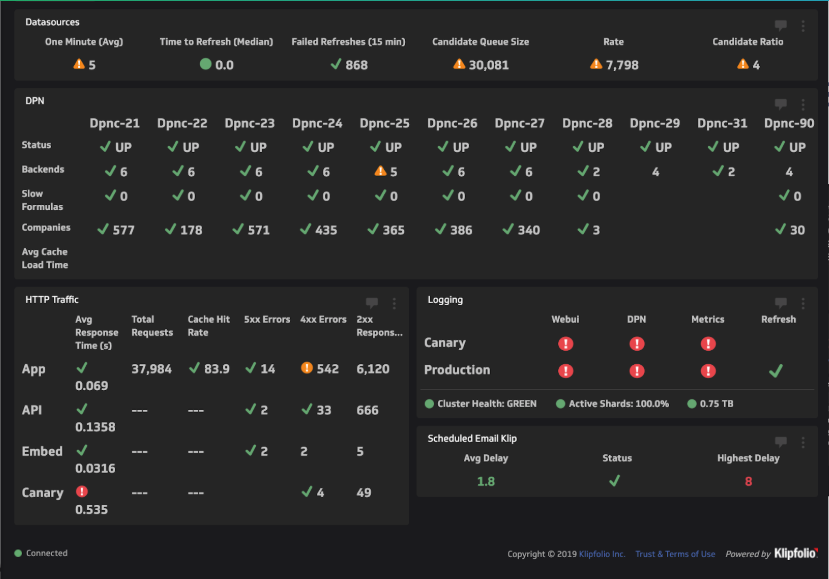 By having monitoring in place to measure software quality, the Klipfolio team is able to get a continually up-to-date status of their backend and share outcomes internally. Overall, fostering a culture of quality through a data-driven approach to QA.
Learn More About Building a Data-Driven QA Team
Not sure where to start when it comes to building a data-driven QA team? Check out this infographic outlining six essential QA metrics and start focusing on the testing metrics that have the most impact.