For most organizations, QA is a team sport. To move as quickly and efficiently as possible, teams need the right tools to keep the testing and quality feedback process flowing smoothly.
Rainforest knows that enabling collaboration is a critical part of our users' success, so we're constantly looking for new ways to optimize our platform for collaboration. We're excited to introduce three new collaboration-focused features designed to help teams get more out of Rainforest.
Test Owners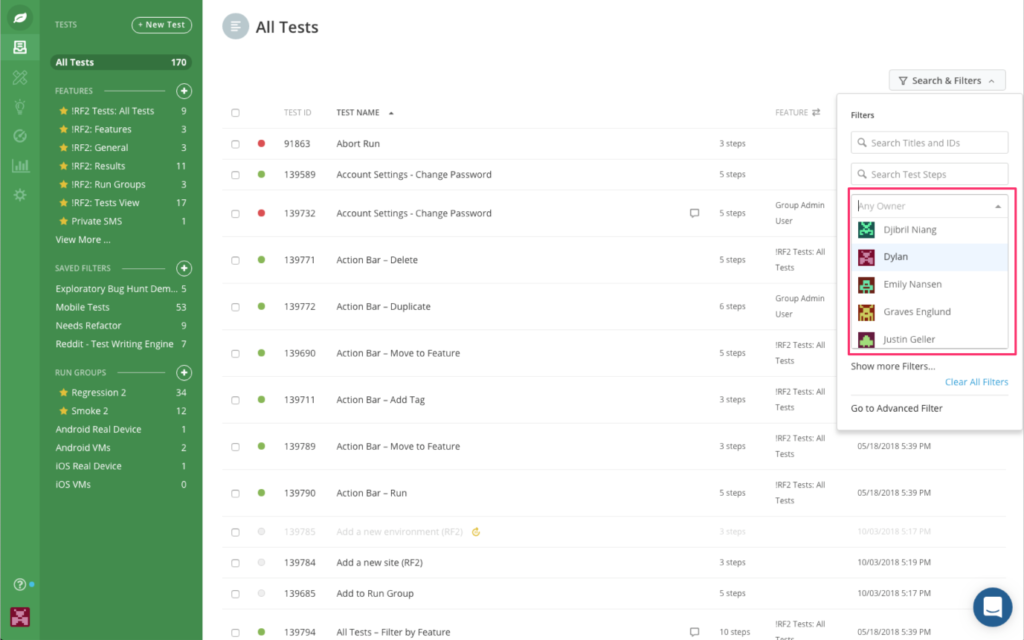 You can now assign owners to Rainforest tests. This makes it easy to find all the tests that you are assigned to, and to keep track of who else on the team owns each test. When a test fails, you can quickly identify the owner of the test.
This is helpful to alert people of new bugs related to tests they own, or to get to the bottom of why a test is written in a particular way. You can also filter test cases by owners to get a high-level view of who on your team owns specific tests.
Draft Mode
QA testing often ends up being largely an exercise in test writing and maintenance. Draft Mode helps teams develop stronger, more valuable test cases and organize their test suite more efficiently.
New test cases start out in Draft Mode, where you craft your test and get quick feedback from our expert testers. Once your test is passing and validated, you can publish – knowing that your test is accurately written and ready to provide you QA coverage. Learn more about how you can use Draft Mode in our post on Getting the Most Out of Draft Mode.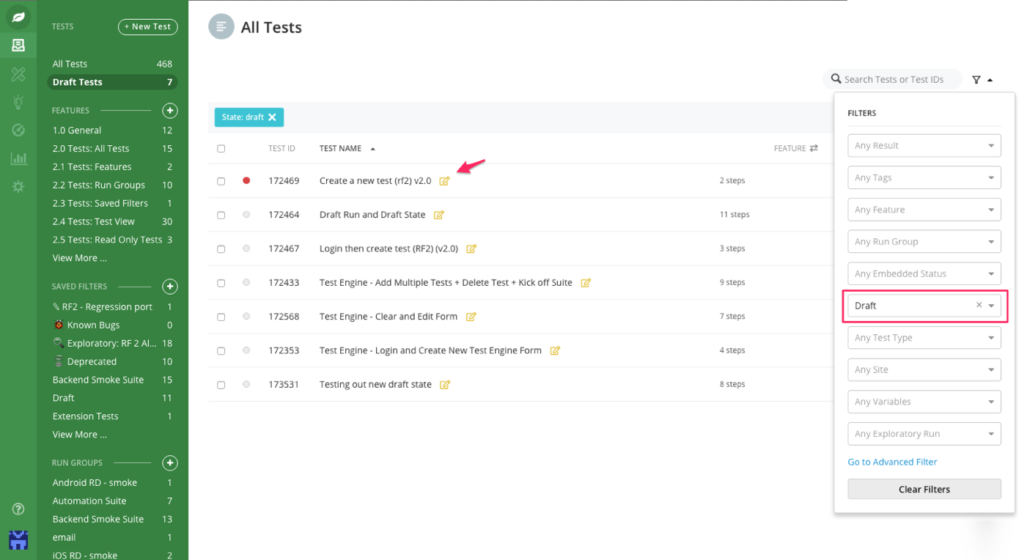 JIRA Integration Improvements
JIRA is an essential platform for issue tracking and bug resolution, so it makes sense that we've had so many requests for a more robust Rainforest-JIRA integration. You can now export test results directly to specific JIRA projects, closing the feedback loop and giving your dev team everything they need to resolve issues found in Rainforest. We've also upgraded the user experience – you can navigate directly to the new ticket in your JIRA instance after exporting.

Rainforest for Collaboration
Want to learn more about features that will help you optimize your testing workflow? Check out our Rainforest Tips & Tricks articles to get the inside scoop, and subscribe to the blog in the sidebar for the latest updates from Rainforest.