New Features from Rainforest: Amp Up Your Testing Workflow and Gain Better Insights into Bugs Caught by Rainforest
Here at Rainforest, we're always looking for ways to improve our users' testing workflow. Having an efficient test writing and triage process is essential to ensuring that your team gets the most out of Rainforest. With that in mind, we're excited to announce several new features designed to help you write and edit tests more effectively, and better measure the impact of your QA.
Test Writing Helpers
Want to improve your test writing skills? We know that getting the hang of writing great tests cases can take a bit of practice. That's why we've added Test Writing Helpers to the Rainforest platform. These are helpful tips that pop up as you're writing test steps to guide you in the right direction.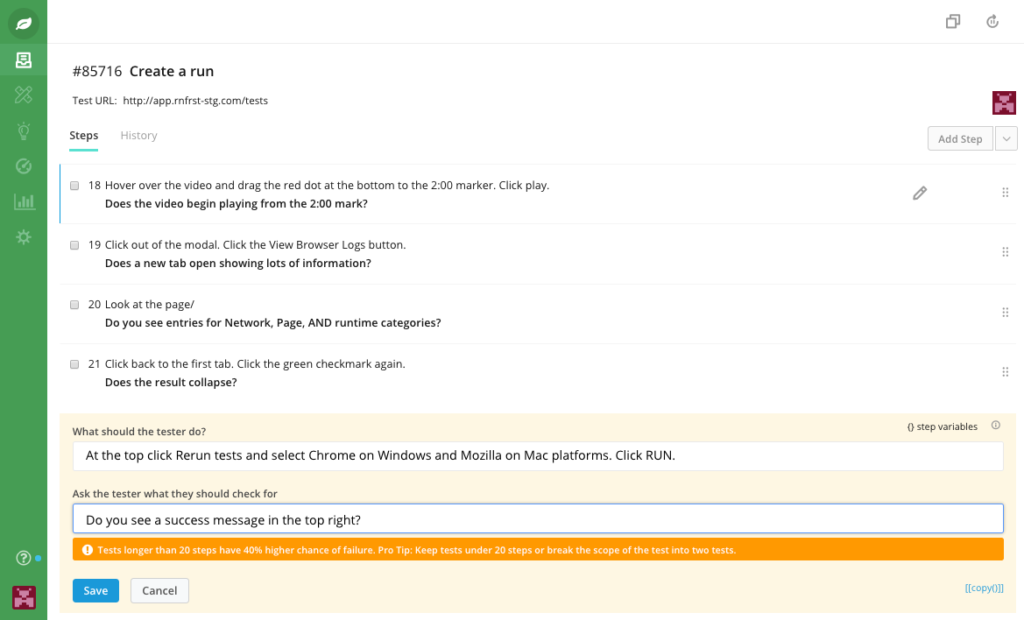 Categorize Test Failures
Tracking and measuring the results of your test runs is essential to building a strong QA strategy. We're adding new ways to categorize test failures to help you do just that.
Now you can add comments to any failed test run, whether you want to leave notes for the rest of the team on next steps, or comment on the status of a bug. Additionally, you can categorize runs as "tester errors."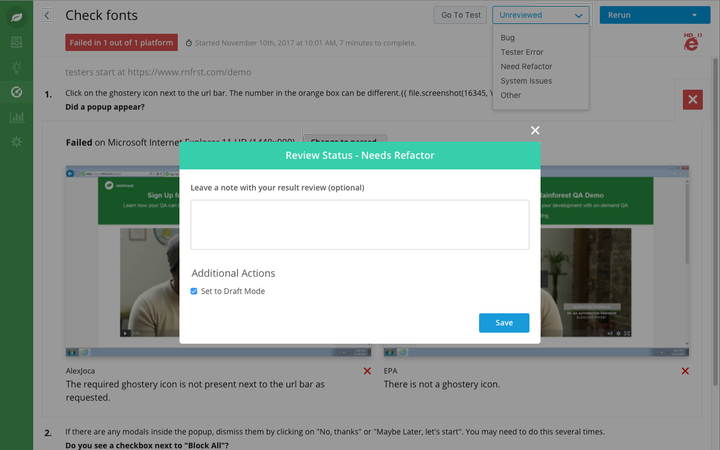 We're also introducing two new Reports that give you insights into how your test failures have trended over time. You can now view the number of bugs caught over a specific period of time, as well as stats on who has been reviewing and triaging run results. This data is based on how you categorize test failures.
To find this information, navigate to the Reporting tab in Rainforest and look for two new cards under the "Results" header: "failure categories over time" and "'reviewed by' stats." With these new cards, you can see the distribution of failure categories including bugs, system issues and tests needing refactor.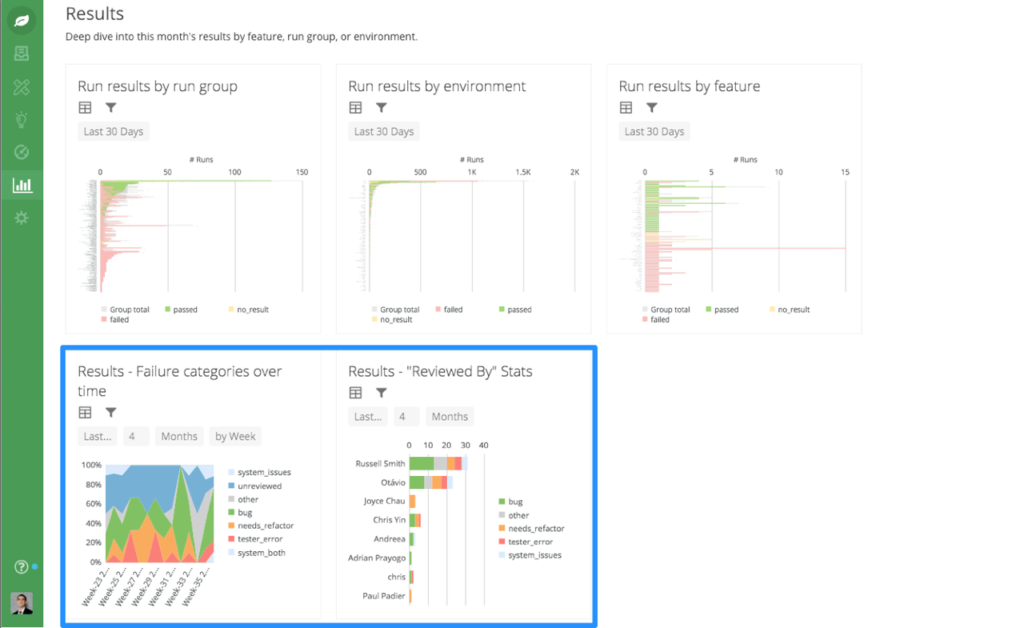 Add Step Mid-Test
Now you can add a new step anywhere in a test in Rainforest. Just hover your mouse between existing steps, and you will see an "Add Step" button, and add your new step. You can click the usual dropdown arrow to add an embedded test, if you wish. Previously you could only add a new step to the bottom of a test.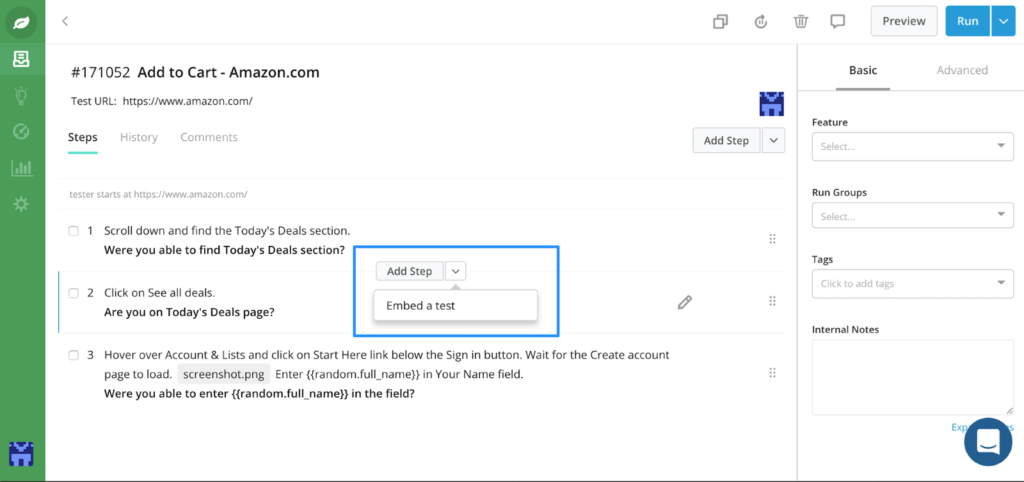 Draft (Beta)
We're excited to announce an upcoming feature that is currently in beta for Rainforest customers: a discrete "Draft" state for tests. Rainforest now lets you keep track of which tests are being written and updated so you can streamline your test creation workflow. Draft helps you write tests more quickly, more accurately and gives you real time feedback from testing experts in the Rainforest QA tester community while in Draft.
Newly created tests now start as a draft until they are ready to be published. In the test view, draft tests have a yellow banner. In the test list, draft tests have the new draft icon next to the title.
When you run draft tests, they are sent to testers who focus specifically on providing feedback on test instructions. This way, you can quickly optimize your tests and get them ready to run. Any testers feedback on test instructions from draft runs will show up on the comments sidebar in the test view, adjacent to the step, so you can quickly act on it and improve your test.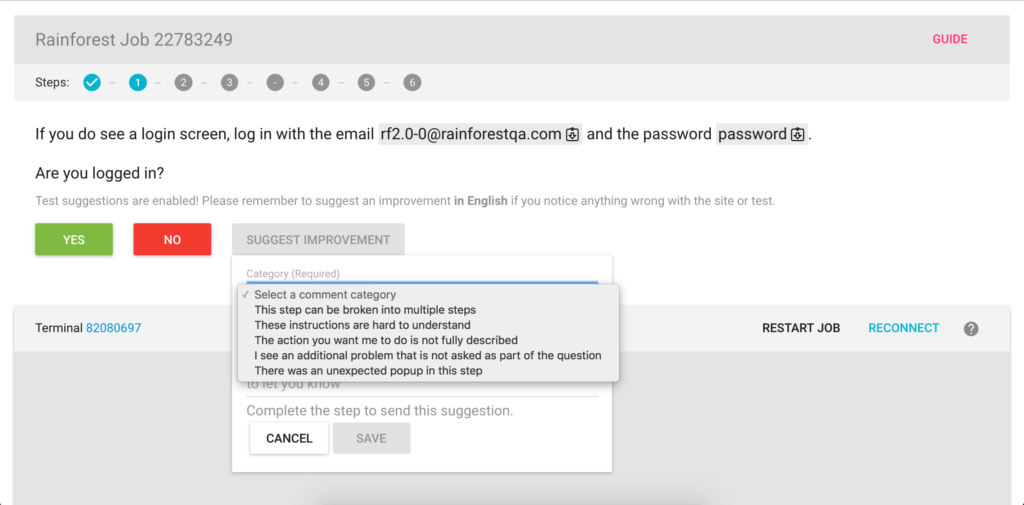 Once the test has passed and you are ready to run it to catch bugs, just click the dropdown on the top right in the test view and select "publish". To view all your draft tests, look for the new view below "All Tests". This is your new landing page for all tests that need to be written or updated.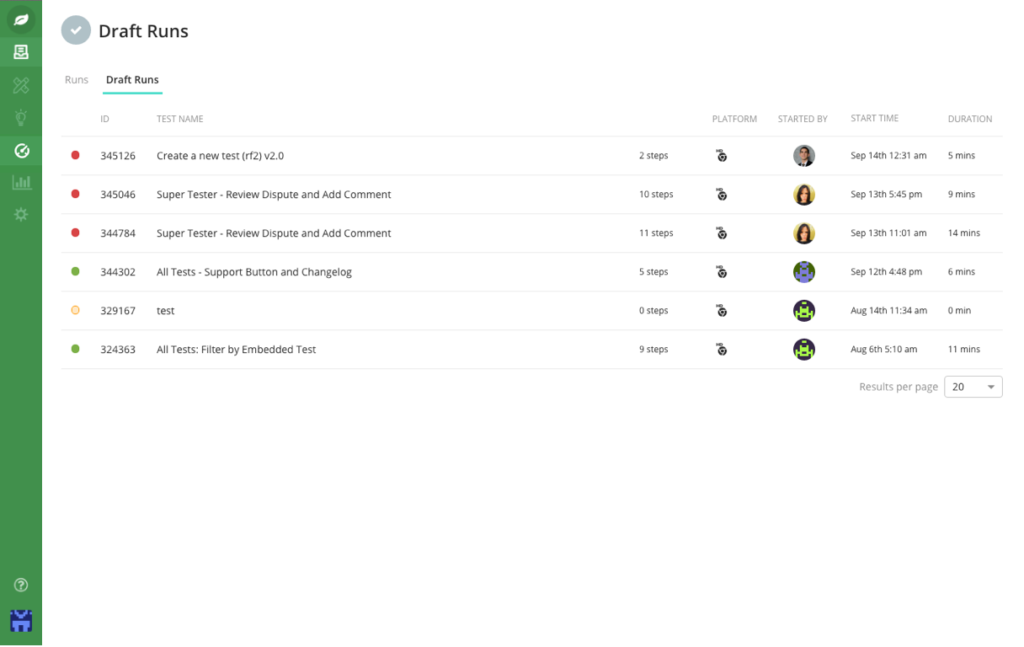 To learn more about running tests in Draft State, check out our Support Documentation on Draft. To try out Draft for yourself, contact your CSM!