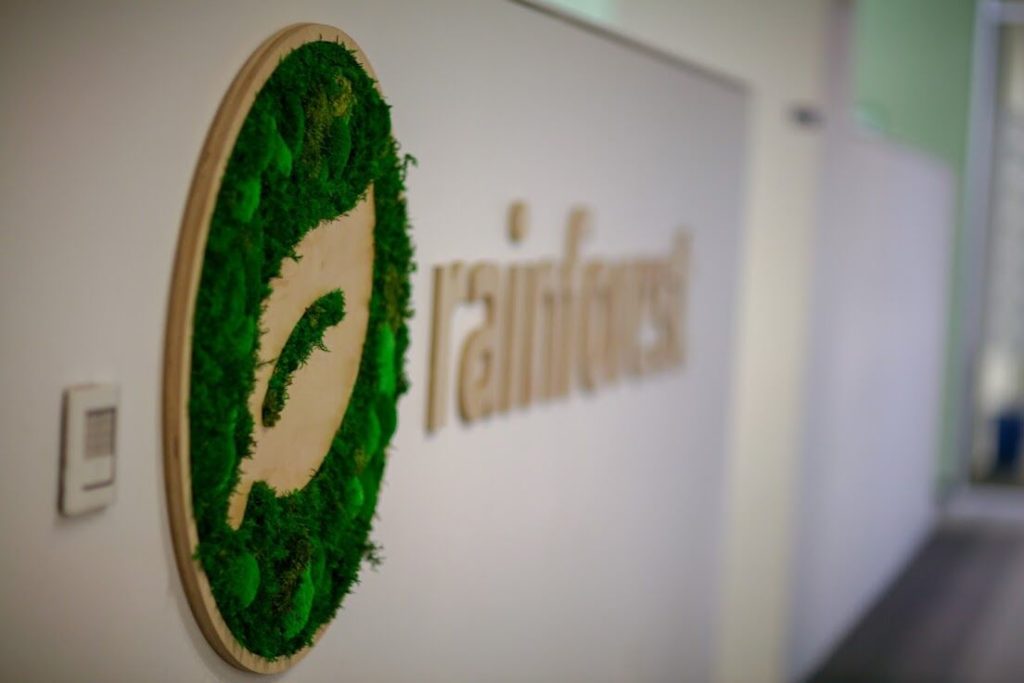 To those considering a career path in tech, or are just curious about what it's like to be an intern for a startup, here are 4 things learned from Cole Hudak, a marketing intern at Rainforest QA.
1. Culture, Culture, Culture
It's commonplace for a company to tout their investment towards a quality company culture. However, seldom do you find a company that truly stands by its vision and culture goals as much as Rainforest QA. Within three hours on my first day, I had met half the company. Within a week, I had eaten dinner at the CEO's house (he makes a mean spaghetti). Startups like Rainforest QA have such a unique and wholesome sense of camaraderie that it makes you want to forget your internship has an end date.
Three weeks into my time at Rainforest, the company hosted their tri-annual "Onsite Week" which congregates all 125 employees from all corners of the globe to reconnect, collaborate, and interact. With 35% of Rainforest QA working remotely, this week is an amazing opportunity to meet people from all walks of life, and they are just as excited about it as you are. With a week filled with bonding activities, competitions, and a ludicrous amounts of food, I gained valuable experiences and knowledge from people I never thought I would be able to meet.
2. There Are No Dumb Questions
Coming from a non-tech background, being brought up to speed on the ins and outs of a SaaS company in Silicon Valley can be a lot to wrap your mind around. Every company has their own set of jargon and slang, and it can get very confusing. The most important thing to do is ask questions, and get involved in the conversation. Nobody expects you to know everything, but everyone expects you to want to learn.
A direct benefit of knowing nothing about the technology space is that there is a plethora of material to learn. Within my first week, I had watched 4 webinars, and absorbed so much information about a field I had no prior experience in. I was able to immediately apply these learnings to approach my first few projects with confidence and knowledge.
Sometimes, after you've asked 100 questions before 11AM, it can be easy to feel like a nuisance. Remember that your team chose you to be there, and they all want you to succeed. As an intern, especially on a small team, you have an incredible opportunity to make a lasting impression on a company through your work.
3. Make Your Commute Productive
Working in the Bay Area, it is common to have a long commute. In fact, the average commute in the San Francisco Area was approximately 60 minutes each way. It won't always be perfect. It sucks sometimes, and there's no sugar-coating that. It doesn't matter how far you're going, or what method you use, sometimes you have to grin and bear some uncomfortable situations.
A new term has been adopted for those who commute 90+ minutes each way: The Super-Commuter. In addition to being the worst possible super power ever, this title comes with a lot of extra time on your hands. For those that drive, listening to the same playlist over and over again can get a bit tedious. Instead, use the time you have to learn, meditate, or get lost in a good audiobook. If you take public transit (Caltrain/BART), occupy your idle time by teaching yourself a new skill, or gaining a new hobby.
During the course of my 90-day internship, I spent approximately 6,000 minutes on the Caltrain alone, which comes to just about 100 hours of dead time. In order to occupy this time, I opened my work laptop and continued writing blog posts, editing spreadsheets, and being as productive as possible. When you don't feel like working, I highly recommend picking up a great audiobook or finding a new podcast to follow.
4. Don't Be a "Yes Man"
Rainforest QA is unique in that it pushes you way out of your comfort zone in order to gain as much as you can from your time as an intern. An easy mistake to make in an internship is to say yes to every opportunity in order to learn as much as possible. You're only in this space for a limited period of time, and it's important to not only make an awesome impression, but be excited to get involved with your work and collaborating with new people.
However, an internship is an opportunity for you to build your career and excel in your projects and assignments to make a lasting impression on your peers. If you eagerly (albeit blindly) accept every opportunity or project that comes your way, you will soon find yourself over-burdened and fighting the clock. Take time to consider your organizational skills, time management, and workload ability.
If you stretch yourself too thin with a plethora of projects, you'll find yourself unable to complete work at the level of quality your supervisors may expect. It's commonplace for you to feel intimidated by asking questions, but it is important to remember that you are new to the space, and your supervisors may have a better grasp of proper prioritization than you.
Want to learn more about find out more about interning at Rainforest? Read a few of these other posts about our former Sales and Customer Success interns, and our Product and Engineering interns. Check out our Careers page to learn what internship roles are currently available!