Measuring the results of your QA process is essential to improving product quality in the long term. Here at Rainforest, we are constantly striving to provide useful information to customers in order to provide maximum value to their development process. That's why we're excited to share two new features that will improve how users view and interact with their test results.
Reporting
Previously, Rainforest users had limited options to gain insight into the performance of their test suite, outside of manually reviewing test runs individually. To address this issue, we have shipped a new feature that gives users complete visibility into their account usage. With Reporting, you can now track test coverage over time, historical pass/fail rates by test suite and other key QA metrics to better understand your Rainforest usage. All of this insight is also customizable, allowing you to see only the information in the time frame that is relevant to your organization. What's more, we will continue to roll out additional reporting features in the future, keeping all customers up to date on the status of their QA process.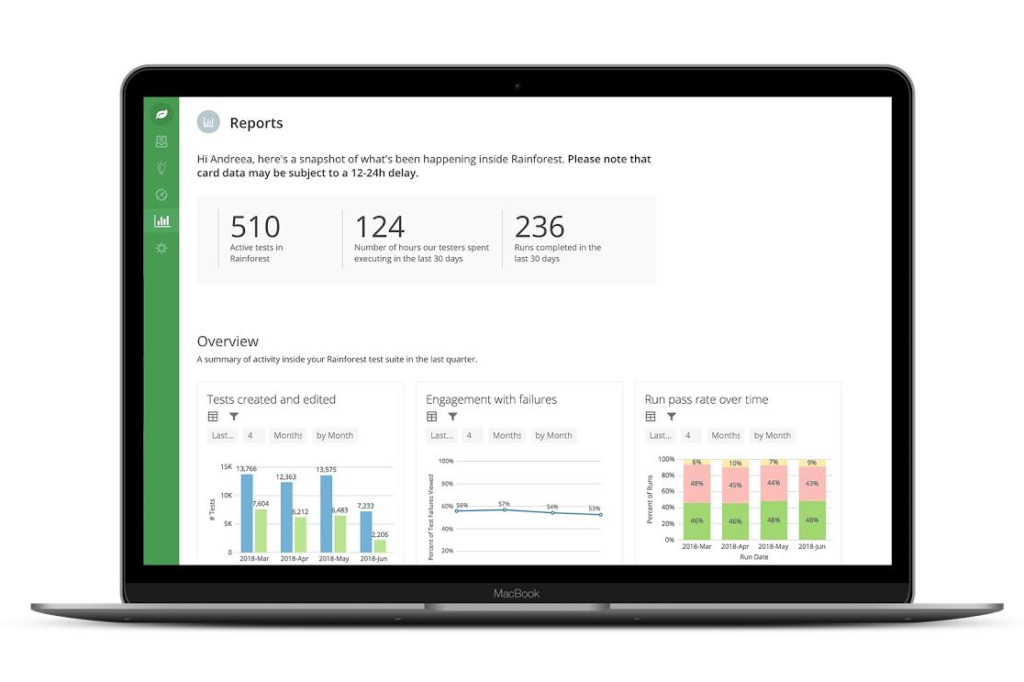 Results Categorization
We have also added a commonly-requested feature that allows teams to easily identify and categorize test runs that have failed. Previously, most teams used external tools such as spreadsheets to keep track of test failure reviews to avoid duplicating work. Starting today, Rainforest gives teams a workflow to review each test failure and categorize under one of five review statuses: bug, needs refactor, tester error, system issues, and "other." These statuses are displayed on the run summary page, conveniently allowing users to see which tests have been reviewed. Users will also have visibility on what is driving test failures over time so they can have a new level of intelligence on the ROI from using Rainforest QA.
There are two main ways to use this new feature:
Categorize Individual Test Results
Customers can go on a the result page for a failed test and click on the "Unreviewed" button, where they will be prompted to select a category from the dropdown menu. This will only apply to the individual test that failed.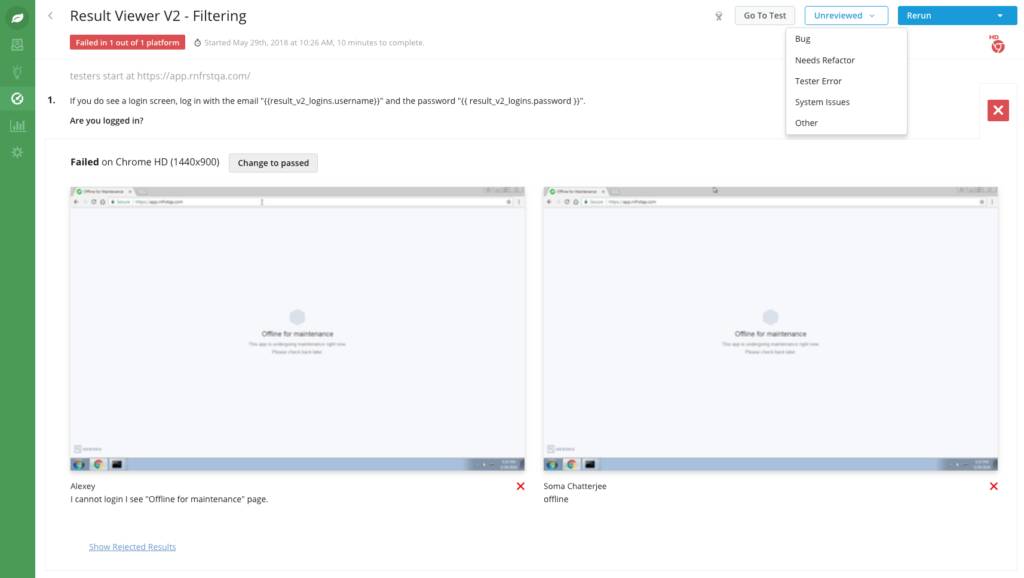 Categorize Run Summary Results
You can also categorize test failures in bulk on the Run Summary page itself by selecting tests using the checkbox and clicking the "Change Review Status" button. This lets you to classify multiple tests at a time.