How Netchex Uses Rainforest and Microsoft VSTS For QA Testing
In the Rainforest Customer Spotlight series, we highlight teams who have transformed their QA process by using Rainforest. In this post, we spoke with Jennifer Queen, a regression manager at Netchex whose distributed team uses Rainforest and Microsoft VSTS to manage a complex suite of HR software solutions. Read on to learn more about Jennifer's workflow and why Rainforest has been a major timesaver for her team!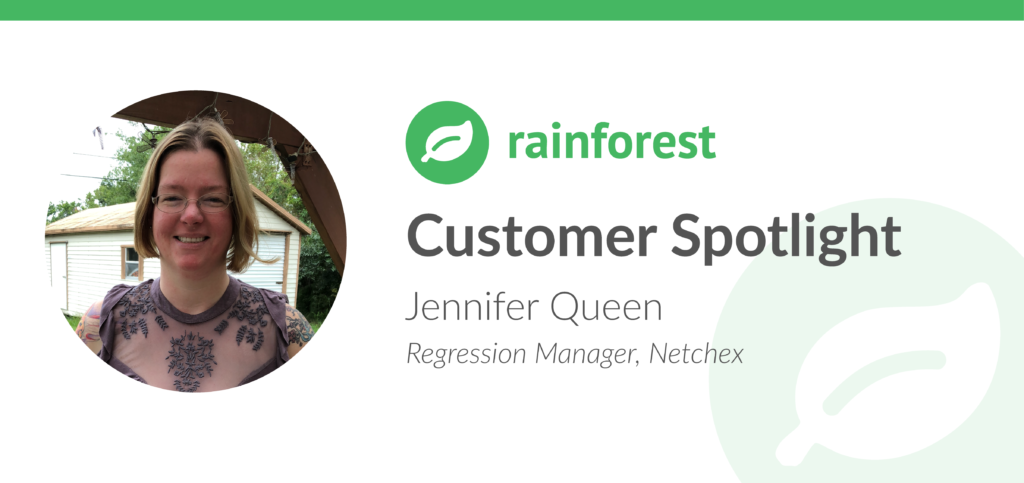 Highlights:
Profile: Regression Manager, partially distributed QA team of 13
QA Workflow: Microsoft VSTS for project management and issue tracking, Rainforest for execution
Secret Sauce: Communication!
Advice: Get your team leads up to speed with using Rainforest as quickly as you can, and have them trickle down knowledge to their teams.
What does Netchex do?
We're a comprehensive web-based suite of payroll, human resources and benefit administration services. What's new today is old two days from now, so we're always pushing out new solutions and trying to stay ahead of the curve.
In addition to our technology, we have a team of highly licensed and experienced professionals to help our customers, from small businesses with 10 people, up to larger organizations that might have hundreds or thousands of employees. Our biggest focus is on our customers and our service. No company that uses Netchex is just a number to us.
What's your current role? What was your path to getting there?
I'm a regression manager -- jokingly called 'The Gatekeeper.' Whenever a project is getting ready to be released to our user base, it goes through a final suite of test cases in an environment very similar to our production environment. I'm the one who is in charge of maintaining and running that suite.
My main career path has always been QA. I've always been very passionate about QA and what it can provide not only developers, but users as well. We're the buffer between developers and the final end users.
What is the structure of Netchex's QA team?
We have an onshore QA team which is primarily QA leads. We also work closely with a company in India for additional QA and developer resources.
What does your QA testing process look like?
We start off doing in-detail research for a feature, and write up stories. Developers create the code, then QA comes in to review everything and try to break the developers' code. We write up in-depth test cases to make sure that the feature meets the original criteria for the feature and ensure that that works, no matter what.
Beyond that we test anything we can think of. There are a lot of moving, modular pieces to the Netchex software, so we try to think of as many scenarios to test as possible.
In addition to Rainforest, Netchex uses Microsoft VSTS to manage QA processes. What does your workflow using both Rainforest and VSTS look like?
We use Microsoft VSTS to house our sprints, which are about 2 weeks long. Within VSTS, we write up our user stories and all of the tasks we need to perform -- for instance, the task to write the code or the task to write test cases. Those tasks are then assigned to the team by the QA leads.
If it's a brand new feature or product, we create test cases within the Rainforest platform, tag them and sort them into their run groups. Our teams are split up into different focus areas, including a new features team and an integrations team, so we want to make sure that tests are organized to fit their workflow. By tagging and sorting the tests, it's easier for our team to find the tests that they're working on at any given time. Once the feature is released, the tests are moved into the main test suite for our site, which is organized by the actual breakdown of the site.
If a bug is found, a bug report is written up in VSTS with a link to the Rainforest test case. Once the developers have gone through and fixed the issues, we rerun the failed test cases until they pass.
When a test goes through its final regression testing, all of those tests are run again against our staging site before release.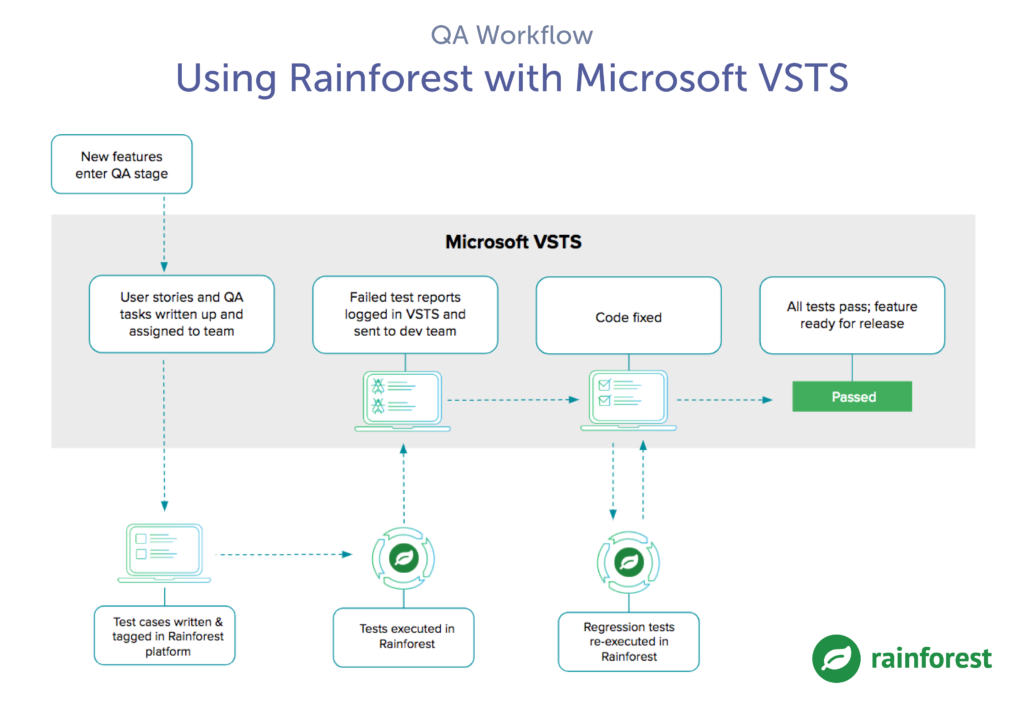 What did your QA workflow look like before Rainforest? What was the transition to Rainforest look like?
Before using Rainforest, we were using VSTS to create test cases, which wasn't always the easiest to navigate, as well as Confluence. Compared to that workflow, Rainforest is so user-friendly and so quick to bring people up to speed on. I love that Rainforest has highly visible, easy-to-read documentation. We've had two new QA leads recently. I was able to easily do a training session with them and share links to all of the support docs.
When you think about your high-level quality goals, what impact has Rainforest had on those goals?
The big key is that I can launch Rainforest tests and get quick, accurate results.
As an example, yesterday we brought up a new VM site that we were testing against. I was able to quickly pull together about 70 tests cases, fire them off and get results in 30 minutes. I could tell immediately which sections aren't working, what the environmental problems are, and any other issues we would have.
If it was just me and one other person running these tests, it would have taken us all week to be able to go through those tests. With Rainforest we were able to identify those blocker problems in about 30 minutes, and I could report bugs to our developers a lot faster.
What was your secret sauce that helped you ensure the success of Rainforest at Netchex?
Communication is the premier thing. I love Rainforest's communication style. The customer success team always talks to me like I'm a human being, not just some number to your company. That's important to me.
What advice would you give to a new Rainforest user?
As soon as the ink is dry, immediately reach out to your customer success manager and start setting up training with your team leads as quickly as possible. Get those team leads up to date and have them trickle down training to their team.
The lead for an automation team should also be up to speed on Rainforest -- even if you've got a full automation team, that lead should be fully aware of and full access to Rainforest as well. If they're automating test cases that are manual, they should know how Rainforest tests work.
Learn More about Netchex and Other Rainforest Users
Check out Netchex to learn more about the customer-focused HR solutions that Jennifer and her team are building, and read the rest of the Customer Spotlight series to see how other teams use Rainforest to ship better quality products faster.