New Guide: Rethinking QA to Unlock the Potential of Continuous Delivery
Teams that want to move faster and implement DevOps are implementing continuous delivery to help them meet their development goals. But continuous delivery -- especially at scale -- can be a challenge. Continuous delivery requires a holistic, integrated approach to the entire development cycle, including QA, but traditional QA processes can't keep up.
A Modern Approach to QA Testing
Continuous testing provides a QA process designed to accelerate testing by creating a testing strategy that focuses on optimizing for speed. As Russ Smith notes in The Continuous Testing Manifesto:
"Good QA enables developers to move faster, while having a consistent set of checks for the work they do. This holds them to a standard for quality, but frees them from having to manually check...QA is a service to the development organization and should always be as lightweight as it is practical."
As more teams move to continuous delivery, many are turning to continuous testing methods to help reinvent their QA strategy and ensure that quality stays high at any speed. According to the HPE World Quality Report, 42% of Agile and DevOps teams are currently using continuous testing and continuous integration, with another 41% planning to implement continuous testing in the future.
Introducing Our Guide to Applying Continuous Testing to Continuous Delivery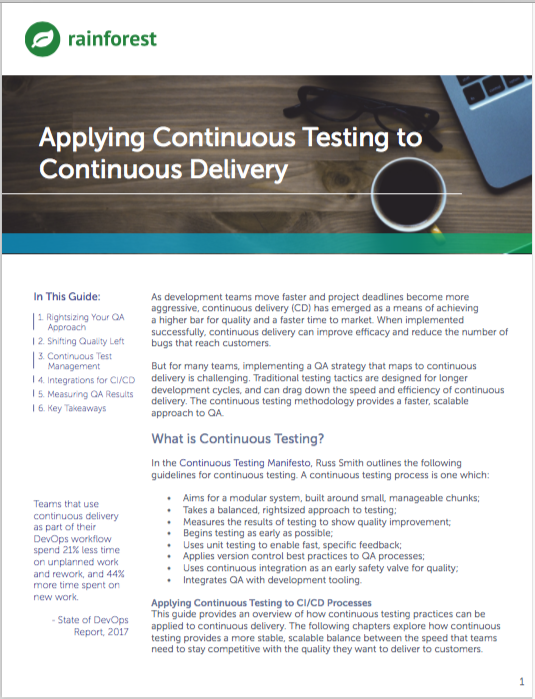 In our new guide on Applying Continuous Testing to Continuous Delivery, we explore what it takes for teams to design a QA strategy that keeps up with their delivery cadence. This ebook, which draws from Rainforest co-founder and CTO Russell Smith's Continuous Testing Manifesto, provides an overview of how continuous testing can be used to unlock the potential of their continuous delivery process.
Download the guide now to start learning about how your team can apply continuous testing to your development process.