In the Rainforest Customer Spotlight series, we highlight the superstars of the Rainforest QA platform: the Rainforest project managers (PMs) that write tests, manage databases and help build better quality processes for their organizations.
For this post, we spoke with Lisa Anderson, Director of Product for Qualpay. Lisa and her team at Qualpay are veteran Rainforest users, having started using Rainforest the same year their organization was founded. Read on to learn how using Rainforest from the beginning has helped Qualpay's team grow, and Lisa's advice for getting the most out of Rainforest.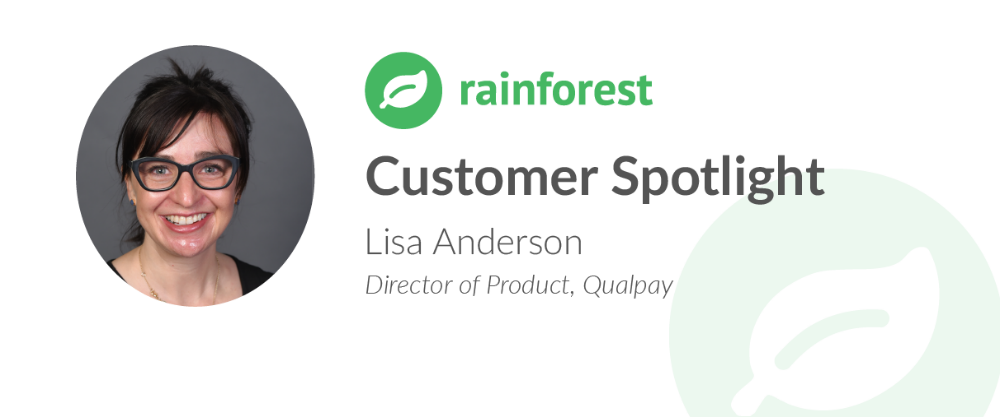 Highlights:
Profile: Director of Product, no in-house QA team
Time Allocated to Rainforest: Weekly test runs before every deployment
Secret Sauce: Working with the Rainforest CSM team to understand how to get the most out of new Rainforest features
Advice: Focus on writing the tests that will have the greatest impact on your customers, instead of trying to cover as many edge cases as possible
What does Qualpay do?
Qualpay provides a fully-integrated, omnichannel platform that is easily adaptable to the individual needs of both businesses and developers as well as partners like Independent Sales Organizations (ISO) and Independent Software Developers (ISV). It combines a merchant account with the payment solutions that today's businesses require. Put simply, Qualpay allows for a better way to manage payments.
What's your current role? What was your path to getting there?
I'm the Director of Product. I started out in a junior role as product manager and stayed in the industry working for a few payment companies, so I've built up domain knowledge within the payments space.
What does your QA testing process look like?
We have a cadence of weekly releases. We start in a development environment that promotes to our sandbox environment. When sandbox is ready to go, run our Rainforest tests. We also do some manual testing where we don't have Rainforest coverage.
We review the test results and for any bugs that Rainforest has found, we add them to a dedicated JIRA project. When we're pressed for the time we can just look through the "red" failed tests to see what broke. Typically we'll find a few things with Rainforest and fix them in sandbox. If there are a good number of issues, we'll rerun Rainforest once we've resolved them.
What other apps, software, or tools are critical to your QA process?
We use the Atlassian "stack" for managing releases. Bamboo, JIRA for issue tracking, Hipchat for monitoring releases. We have a Hipchat room on Rainforest to help us communicate across the team how testing is going.
What impact has Rainforest QA had on your product quality?
We've had Rainforest almost since the beginning of the company in 2015, so it's always been part of our release process. As a small team, we initially didn't have the resources to have a dedicated QA. By using Rainforest, we've been able to save the money that we would have spent on a QA headcount and use that to hire an extra engineer or product manager to get more features out faster.
Similar companies I've worked at have a QA process and person who has to manage a bunch of virtual machines and phones for testing, and we've been able to skip over those things.
How has Rainforest helped you achieve your development goals?
Our goal is to have 24-hour turnaround from sandbox to production. Using Rainforest, we get all of our test results at the same time, so we save a lot of time over someone setting up testing environments and running through test cases internally. The retesting is really simple -- if a couple tests fail and need to be rerun, we get feedback very quickly.
What was your secret sauce that helped you ensure the success of Rainforest at Qualpay?
One thing Rainforest does really well is provide support through the customer success team. We aren't always sure how new features will change our workflow, but we have a quarterly check-ins our CSM, where we get updates on what's new and how we can improve. Being able to have someone from Rainforest come in and talk to our technical team helps us get the most out of the platform.
When I've set up other tools and platforms for the team, the expectation usually is that all the support is online. But we needed to ask someone questions first -- about how our system was built, how were going to clone the data for testing, etc. Our first CSM helped us understand how to write tests and set everything up correctly.
What advice would you give to a new user about setting up Rainforest at their organization?
Sit down and organize your thoughts about what tests would make the most impact. In our case, we focused on putting together a happy path. It's easy to get overwhelmed and focus in on corner cases. But if 90% of our merchants are logging in and clicking "new transaction," that's what we should prioritize, instead of focusing on the "what-ifs."
Check out Qualpay to learn more about what Lisa and her team are building for ecommerce companies, and read the rest of the Customer Spotlight series to see how other teams use Rainforest to ship better quality products faster.