Key Takeaways from "Cracking the Automation Code" Webinar
Last week Rainforest QA's CIO Derek Choy hosted a webinar on "Cracking the Automation Code," where he shared how dev and QA teams can leverage testing automation more effectively and see better results for their efforts. Here are three key takeaways from Derek's talk that every team should know about automation.
Your Automation Strategy Doesn't Need to Be "All or Nothing"
The goal of a QA process is to ship better products and features as quickly as possible. Automation is meant to serve this goal, yet many companies struggle to implement automation effectively. As a result, testing automation can slow down the QA process, creating a significant amount of test script management work for the team. Derek notes that that this is often a problem for teams that try to automate too much, too early.
Taking a hybrid approach to test execution methods -- implementing manual testing and automated testing techniques where each is most applicable -- helps teams gain the benefits of automation's speed and repeatability in a scalable way. Derek says, "For parts of a product that are rapidly evolving, manual execution will allow you to ship things and get as much done as possible. As your product becomes more mature and there are fewer changes to certain parts of the product, it makes sense to automate those areas."
There are Hidden Costs to Automation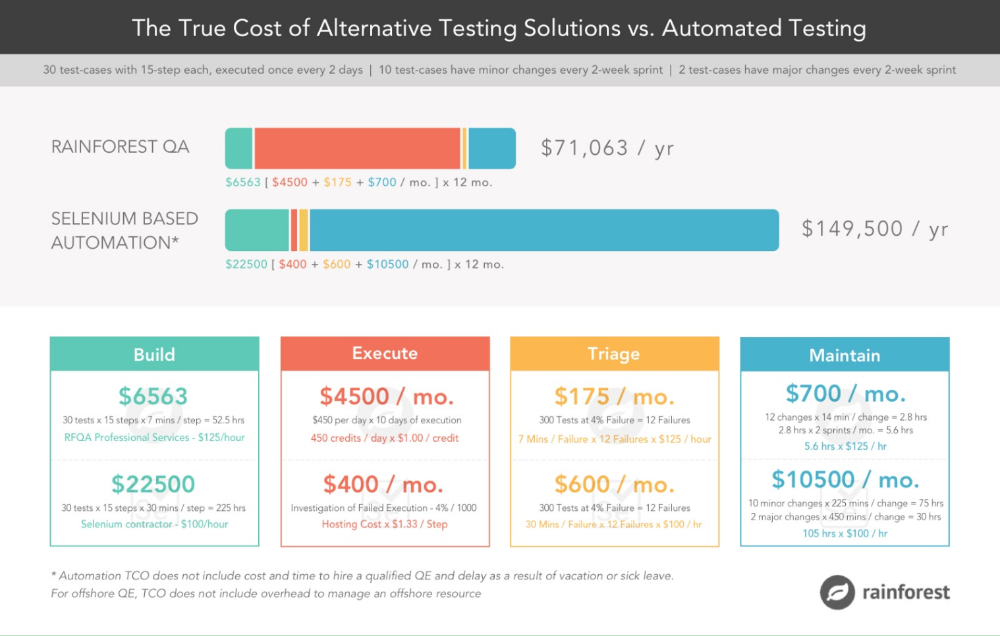 "There is an impression that automation is relatively low-cost and is efficient," says Derek. "But when most people look at the cost of automation, they think of the cost of only creating tests." He urges teams to consider the total cost of implementing a testing automation strategy before starting the process. These costs span everything from sourcing QE talent to continually maintaining the scripts and environments required to execute automation.
For example, recruiting costs and the time required to find good automation engineers is often overlooked when considering automation. "The skill set required to write good automated tests is similar to the skill set required to write good code for your product. Many engineers prefer to write code, so finding dedicated automation engineers can be challenging."
There's No One-Size-Fits-All Tooling and Process Strategy
Teams are moving fast and experimenting with new and innovative methods for shipping features even faster. It can feel like automation is the silver bullet that will fix all your testing woes, but it's important to remember that every organization is different -- and their approach to testing must reflect that.
Derek suggests that instead of thinking of processes like automation as the endgame of your QA strategy, consider it to be just one component of your larger product quality goals.
"We should also look at whether our teams are ready to support automation," says Derek. "Building an automation function is almost like building another team within the engineering department. You're hiring and managing additional engineers...many times, it can be a distraction to your current team and current goals. It's worth pausing and asking if it makes sense for you to do these things today."
For any new tool or process, he recommends that teams ask themselves a few key questions to gauge their readiness for a significant change to how they work: - Does the tool fit into current processes and infrastructure? - Does the tool vendor support training and provide good services? - Do you have the budget for the tool? - Which programming languages does it support? Does the QA team have the knowledge on these languages?
Listen to Cracking the Automation Code On Demand
To hear the rest of Derek's thoughts on finding the optimal approach to automation for your team, download "Cracking the Automation Code" here. On Rainforest QA's BrightTalk page you'll find even more content on creating stronger, more efficient QA and development processes.