Rainforest Tester Spotlight: Saurav
Our network of 60,000 crowdsourced QA testers are a critical part of the Rainforest platform, providing the human perspective that allows Rainforest customers to have confidence that their code is bug-free and user-ready. Today we're getting to know Saurav, who has been testing with Rainforest for nearly 3 years.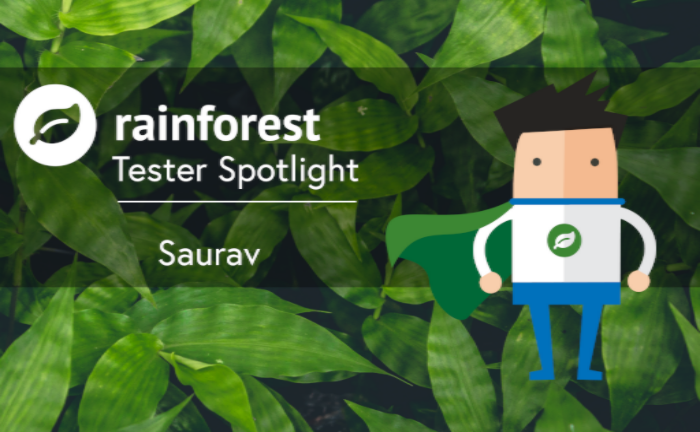 Meet Saurav
I've been a Rainforest tester since December 2014. First time I found a Rainforest testing task was on a CrowdFlower task list, the concept looked very interesting and innovative. After that I was always on the lookout for the tasks and before I consciously decided to dedicate most of my time to Rainforest testing I was already eagerly and anxiously doing that. This way of working just suited my circumstances perfectly.
A Typical Day of Testing with Rainforest
I connect to Rainforest even before breakfast, scan through the community posts while having breakfast, it's like reading the newspaper. The whole community is very dynamic, testers and staff (particularly our Tester Ambassador, Kristen!) staying updated is important. After that it's just staying active on the system, as soon as a job is assigned accept it and follow the instructions as per the rules. I make it a point go through all the rules at least once a week. Now, for the past month after getting invited and accepted to the Super-Tester's group," a typical day" has become even more active and interesting.
What It's Like to Be a Rainforest Tester
The concept of connecting a cloud of testers from around the world to a cloud of companies that require testing is unique. The design of this virtual environment and maintaining it requires a continuous effort. I admire Rainforest QA's determination to keep improving constantly. Being in this environment it feels like a step towards my dream of One World No Country No Religion!!
What would like people to know about being a Rainforest Tester?
In the past two and a half years (almost three) the job assignment mechanism has changed completely. It was done in two steps and every time the transition was smooth and without down time. Every step ahead looks well planned! Now that I have a closer view of the activity I see the eagerness to improve and make the experience of testers and customers even more comfortable and reliable. It's not just a balancing act but a sincere effort to fulfill the commitment. RainforestQA is destined to grow bigger.
When I'm Not Testing...
Rainforest QA has become an integral part of my life. The bonus part of this concept is still being able to connect with other interests in life. I stay updated on networking, virtualization and related technologies. I love to read about space explorations and follow scientific discoveries I also like to listen to music, watch a few movies and collect recipes.
My life had taken an odd turn; a series of unfortunate events over a few years led me from being an active office-goer to staying within the boundaries of a room. For the past 9 years I have been confined to bed, but I never lost hope. Rainforest keeps that hope alive for my family and me.
To learn more about how our testers help us deliver faster, better QA results to Rainforest users, read more about the Rainforest Tester Network here.