3 New Rainforest Features to Boost QA Collaboration
Whether your team has a dedicated QA manager in-house or takes an "all-hands-on-deck" approach, chances are your testing process has some cross-functional and collaborative moments. We're rolling out a few new features this month to help Rainforest users collaborate better and get more out of their test writing experience.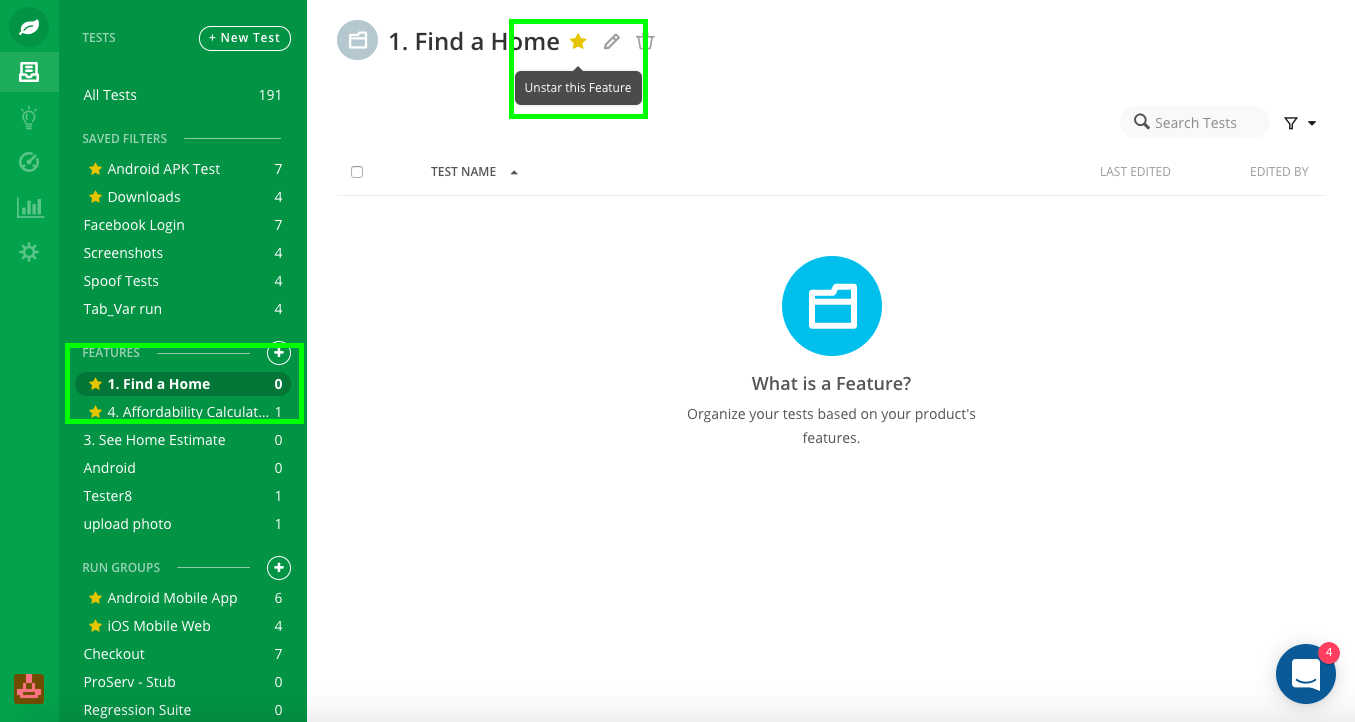 Bookmarking Features, Run Groups and Saved Filters
If you have a larger team, you can now bookmark some of your most viewed pages to make Rainforest your own. This feature is helpful for teams that have many members, each requiring frequent access to a small subset of pages.
To bookmark or "favorite" an item, just go to the feature, run group or saved filter page and click the "star" icon to the right of the title. Favorited items will show up at the top of the list with a "star" next to their title. Rainforest remembers favorites on a per-user basis, so any items you favorite will not impact other team members.
Run Tests Locally via CLI
If you are working in a larger team and only need to update a subset of tests, you can now do so with the new Run Local Tests CLI feature. Now devs can run only the tests that are in the current version of their code repo, allowing organz to more closely tie their codebases to relevant Rainforest tests. This also automatically uploads these tests to Rainforest.
Just use the run -f command, which accepts any number of files and folders as arguments (folders will be recursively checked for * .rfml files). To get started, review the documentation in our CLI read me.
Exploratory In-House
Rainforest now supports Exploratory testing with your in-house team. This lets your team run unscripted exploratory testing sessions using the Rainforest environment. Larger companies may find this very beneficial to boost collaboration for distributed teams and increase value of offshore resources.
Exploratory In-House includes access to our Exploratory VM infrastructure, which features a wide variety of Windows, Mac, Android and iOS platforms.The exploratory sessions are run on a dedicated, robust infrastructure that's 16x more powerful than our regression platforms and capture browser logs, HTTP logs and video recordings of the testing sessions. Any tests captured can be documented on the Rainforest platform, allowing you to keep more of your QA activities consolidated in one place.
To find out more about setting up Rainforest Exploratory for your in-house team, contact your customer success manager.
--
Want to get the latest updates on Rainforest features as they're released? Subscribe in the sidebar to receive Rainforest news in your inbox!