Our network of 60,000 crowdsourced QA testers are a critical part of the Rainforest platform, providing the human perspective that allows Rainforest customers to have confidence that their code is bug-free and user-ready. Today we're getting to know Ilaria, a Rainforest Tester based in Sardinia.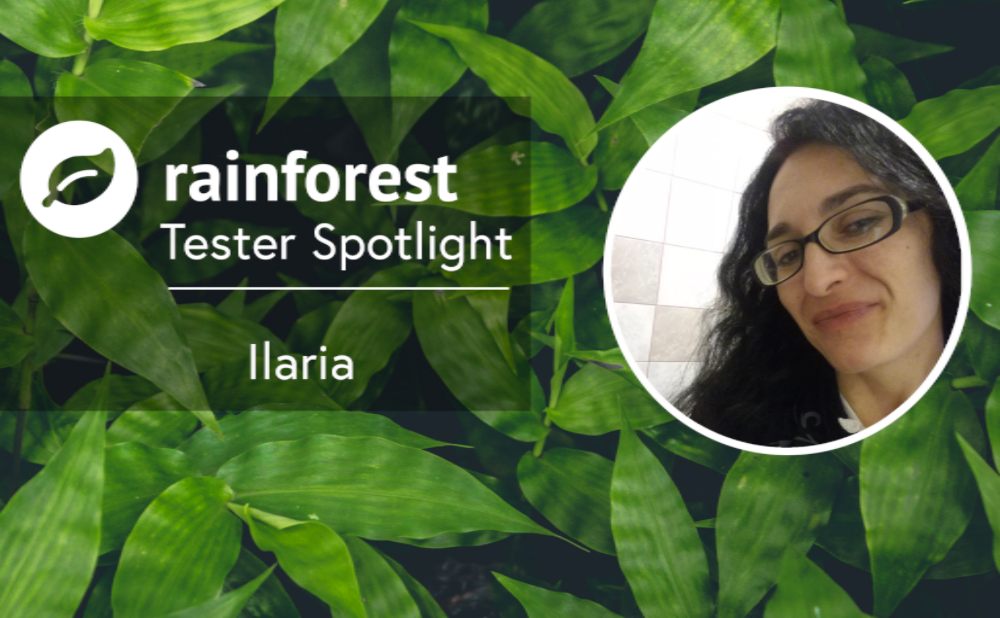 Where do you live?
I'm 100% Italian! I come from Venice (yes, the famous one, with Rialto, San Marco etc.) but I live in Sardinia now. It's a beautiful island equidistant from Italy, Spain and Africa.
I joined Rainforest in June 2016. I was - and still am - a Clixsense user, and some of my mates were also Rainforest testers. They talked a lot about this experience; back then I was happy with only doing Crowdflower tasks, but I was also looking for something new, so my curiosity grew bigger and bigger. I'm also well known for being a "tough cookie", so when I have a project or an idea, I do anything to make it come true.
A Typical Day of Testing with Rainforest
It took some months for me to find a balance between my personal life and my tester life. Back in the days when, unfortunately, I was suffering from insomnia, I was online up to 23 hours a day, mostly for testing and Clixsense. There was no time for anything else; I can say that wasn't a life at all.
Now things are much better, much more relaxed but also more organized and less chaotic! I sleep 7 hours (even more on weekends), turn my PC on and wait for the first testing job. Meanwhile, I learned how to use my free time between one testing job and another in a more advantageous way. I'm not sitting on a chair all day anymore. I cook and do my chores, but also sing, work out, play with my cats. These last weeks I even started learning Arabic! It's all about optimizing your time and keeping doing the things you love.
What It's Like to Be a Rainforest Tester
Testing is first of all an extraordinary human experience. I remember all the sleepless nights I shared with my mates, all the concerns, the weariness, the anger sometimes. Now I love turning on the computer in the morning and reading in the tester forum about what my fellow testers did while I was deeply asleep!
My day isn't complete if I don't chat with someone of them, share opinions about the jobs, the rules etc., as if they were my office colleagues through and through. Of course the "off topic" part is predominant! I found many real friends on the Rainforest testers forum, they are my second family now and I love them!!! Another thing I like is the challenging/learning side of the matter. I'm not a computer scientist, I'm a grammar scholar, so I had to learn from scratch how to handle a website or an app for a testing purpose, and I think this is a great training for the brain!
What would like people to know about being a Rainforest Tester?
Two things. First one: it's not all fun and games. I had my hard weeks, but I never surrendered. I know what waiting in vain for a testing job is. In cases like this, a friendly word can mean the world. I got my share of friendly words from a very special person, so it's my turn now, I always do my best to help those who feel downhearted.
Second thing: if testing becomes too hard, too frustrating, and starts affecting the quality of your life, my advice is - take a short break. There's nothing more important than our mental and physical health! When I feel too tired or under the weather, I simply stop and take my time. Only if I'm mentally and physically recovered, my performances are better too!
When I'm Not Testing...
When I'm not online, I love going out for a long walk; I live on the hills, so there are many paths to explore around here. Furthermore, I'm a very shy and quiet person, but whenever it's possible I go to metal concerts and I totally let myself go! I know it sounds like a contradiction, but I really love silence and peacefulness. It's just that sometimes I need to vent! If I decide to stay at home, my favourite pastimes are reading a horror/thriller book or playing a videogame. I'm really good at it!
To learn more about how our testers help us deliver faster, better QA results to Rainforest users, read more about the Rainforest Tester Network here.