Rainforest QA Customer Spotlight: Francisco José Arraez with Signagelive
In the Rainforest Customer Spotlight series, we highlight the superstars of the Rainforest QA platform: the Rainforest project managers that write tests, manage databases and help build better quality processes for their organizations.
In this installment, we caught up with Francisco José Arraez, a user acceptance tester at SignageLive who has been using Rainforest since May 2016. Read on to learn how Francisco uses Rainforest to help maintain a high standard of quality as Signagelive embarked on a major UI redesign.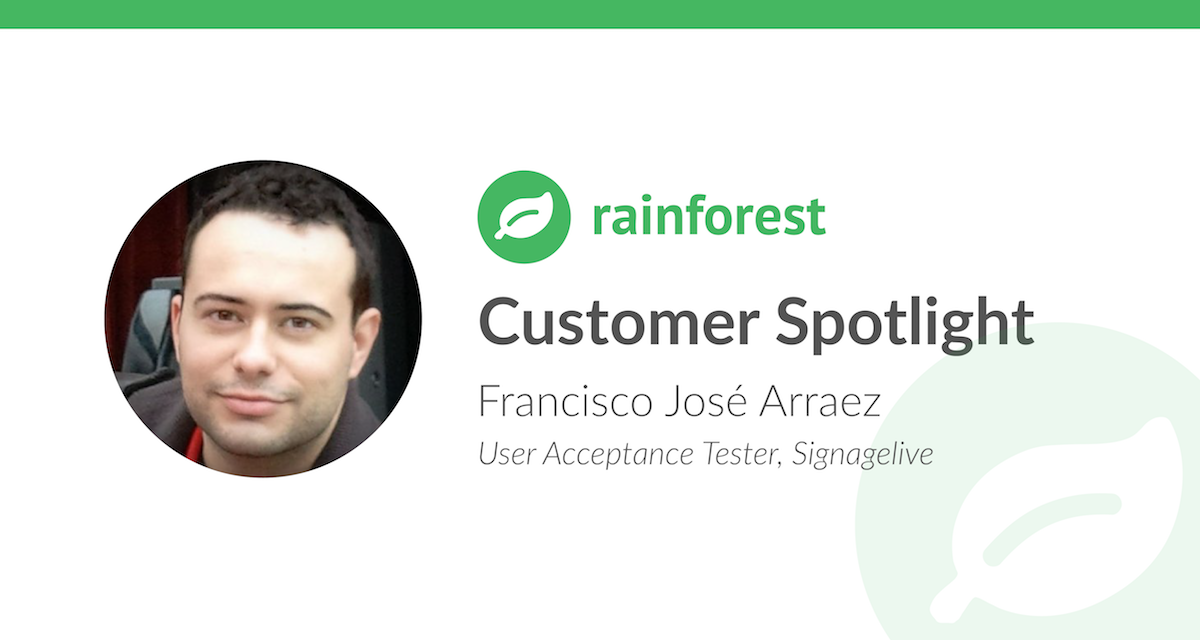 Highlights:
Profile: Customer Support > User Acceptance Tester
Time Allocated to Rainforest: Approximately 2 months to learn how to use the platform initially; now for each new UI iteration, about half a day to write new tests and update existing ones.
Secret Sauce: Focus on writing specific, detailed tests in order to receive the best results possible.
Advice: Always check the test screenshots and videos to find new bugs that might not have been covered by your test instructions.
What does your company do?
Signagelive is a digital signage company which provides cloud based software and services worldwide. We're known for our work in various different industries including Food Service/QSR, Retail, Stadiums, Internal Communications, Education and Medical innovation; but also for leading the sector in the adoption of new technologies, standards and applications, including emergency messaging and interactive retail experiences.
What's your current role? What was your path to getting there?
As a User Acceptance Tester, I ensure our software actually does what it is supposed to do, and that it meets our quality standards. Basically, I simulate what our end users would do in a real world scenario, checking our software is ready to be released. I worked in customer support before that, helping in internal (and manual) testing sessions.
What does your QA testing process look like?
Currently we are developing a completely new UI which must work on all major browsers, and Rainforest plays a key role in that. I'm given the environment and a requirements definition document. Then I locate the functionalities and the expected behaviour and start writing the tests on Rainforest. I run the tests, then I see the results (including screenshots and videos!) -- as easy as that. I do a lot of manual testing while writing tests, but Rainforest saves a lot of time when testing across so many different browsers; it would take a huge amount of time and resources to test those manually.
How has Rainforest impacted your product quality?
On every iteration of our new UI development, Rainforest has helped us quickly spot not only browser specific issues but also general functional issues, both directly and indirectly. The time saving is invaluable.
What other apps, software, or tools are critical to your QA process?
Using Rainforest integrations, we have a separate project in JIRA to track bugs and also a Slack channel visible to the whole Development Team to quickly check test results in there.
What does an average day in your role as a Rainforest PM look like?
Currently, we are developing a new user interface. With every new iteration I spend half the day creating new tests, but also updating existing ones. When I started around one year ago it took a couple of months to get the first set of tests entered but it's much quicker now. You realise Rainforest is worth every second when running regressions tests.
What was your secret sauce that helped you ensure the success of Rainforest at your organization?
You have to get familiar with how testers read and understand your instructions. The clearer and more specific the instructions are, the better. Dividing the same feature into smaller different tests helps a lot.
What was one thing you wish you knew when you started using Rainforest?
The first weeks with Rainforest were just about how to write good, correct and effective tests, understanding you are tested by testers too! Learning to write tests that had very detailed, specific instructions and questions was key. As a user, I had to get familiar with adjusting the wording of my tests to be clear for the testers.
As an example, to test the date displayed is "correct," you shouldn't ask "Is the date correct?" After some time you'll learn to ask something along the lines of "Is the date accurate, including days, months and year?""
What advice would you give to someone who is currently setting up Rainforest at their organization?
As mentioned above, take some time to ensure you are writing good tests. You'll notice the results very soon. Also, don't forget to check screenshots on passed tests from time to time; you may find a new feature or a bug was not covered on your instructions.
-
Learn more about what Francisco and his team are working on by visiting the Signagelive website. Catch up on our previous posts on Rainforest project managers here: - Megan Bruce | Curalate - Sammy Samperi | iOffice - Mark Anthony de Jesus | GrowthHackers