This Tuesday, Rainforest partnered with Bleacher Report to present a webinar on Creating an Agile QA Strategy that Scales with Your Testing Team. During the webinar, Derek Choy, Rainforest VP of Engineering, joined Quentin Thomas, Sr. QA Automation Engineer at Bleacher Report, to discuss the factors that teams need to consider to develop a forward-thinking QA strategy.
Here are some of the key takeaways from the webinar that everyone should know about creating a scalable QA testing strategy.
The Biggest Agile QA Challenge is Balancing Accuracy and Speed
Quentin discussed how Bleacher Report has recently adjusted to a continuous deployment cadence. His team has found that scaling testing to meet their increased speed requirements has a major hurdle. "The biggest challenge has been being able to have QA meet the speed of our developers and the DevOps team. It took us about 6 months before we designed a full process that made sense."
This sentiment was echoed in an audience poll conducted during the webinar. 50% of attendees said that "Confidence in the consistency and dependability of quality throughout the development lifecycle" was the predominant driver of their desire to improve their QA strategy.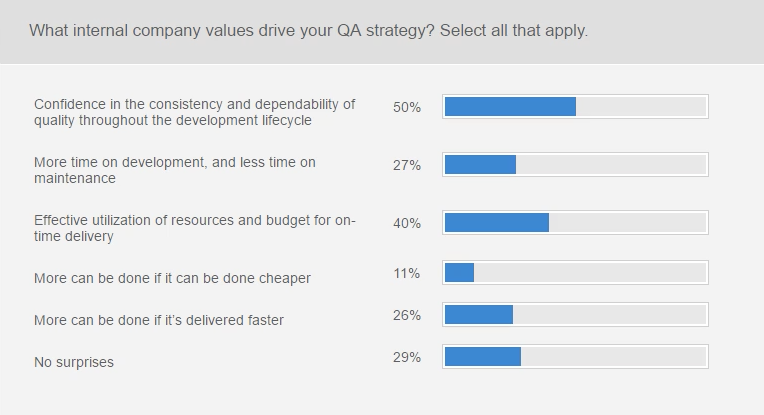 For Quentin and his team, the process of refining their QA strategy required experimenting with different testing types and techniques until they found methods that worked well for them. Manual testing was replaced with a faster, more scalable crowdtesting process that enabled a continuous testing cadence. "Quality started to get a lot better when we got away from [manual] testing and joined the developers in a continuous development process. Now we're in a position where QA controls the deployment of features," said Quentin.
Agile QA is Data-Driven QA
An often-overlooked factor in quality assurance strategy is developing the appropriate measurements for testing. Quentin remarked that data is now at the heart of every QA decision that his team makes: "We work hard to get data and QA metrics for almost everything that we're doing. This way we can determine how best to tackle some of these testing processes. If you don't have enough data to know what's going on with your quality issues, you might end up doing some work that you don't need to do."
As an example, Quentin mentioned that if his team discovered that a particular 3rd party service that is the source of a lot of bugs, then they must consider whether it's better to continue to build coverage and run tests, or if they should eliminate the service altogether.
Automation Isn't the Endgame
Quentin and Derek agreed that while automation is often a key component of a fast-paced testing strategy, it should be applied thoughtfully for optimal results. "A lot of times you realize that you don't need as much automation as you think -- or as much manual testing as you think," said Quentin. He argued that automation should be thought of as a means to an end, rather than the end itself.
Derek added that automation itself doesn't necessarily make QA more Agile: "There must be strategy around what you automate and when you automate before you're at the point of automation. Jumping into automation blindly and automating things for the sake of automation may not help you accelerate QA."
To hear everything that Quentin and Derek had to say about developing an agile QA strategy, download the on-demand recording of our webinar today. And don't forget to check out more insights from Quentin on his blog, Automating The Future.
If you'd like to get the latest news on upcoming webinars, content and events from Rainforest, please subscribe for updates in the sidebar!