Rainforest QA Customer Spotlight: Sammy Samperi for iOffice
Welcome to Rainforest QA's Customer Spotlight Series. In this series, we'll highlight the superstars of the Rainforest QA platform: the Rainforest project managers that write tests, manage databases and help build better quality processes for their organizations.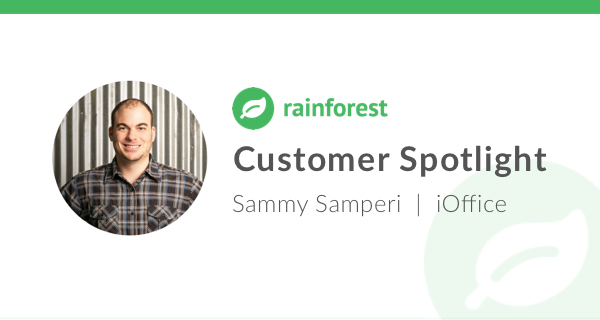 This week we caught up with Sammy Samperi, an Implementation Manager at iOffice who has been using Rainforest QA since May 2016. Read on to learn how Sammy ramped up Rainforest at iOffice, and what advice he would give to teams that are just getting started with the Rainforest platform.
What does iOffice do?
"iOffice is an app for employees to access services that are available to them in their office and for operation teams to manage and measure results. For example we help employees with room booking, finding people and requesting services from the facilities teams. With the facility and operation teams we give them analytics and insights to see how their space and services are being utilized so they can plan for the future".
What's your current role? What was your path to getting there?
"As an implementation manager, I help our clients get up and running with our software. Before that I was in customer service, and I did a lot of our manual testing."
What does your QA testing process look like?
"Before Rainforest, our developers would put tickets through YouTrack to give us a small set of test cases. Our application is pretty large, testing everything thoroughly would take weeks. Since we do weekly releases, that wasn't really an option.
We still do a lot of manual testing, but now we use Rainforest as our first line of defense. Our developers will run Rainforest tests against their branches and once we get a pass from Rainforest, we'll do some manual testing as well."
What impact has Rainforest QA had on your product quality?
"We see an impact from Rainforest every day. When we first got going with Rainforest and started running small tests, we found regressions that we didn't even realize were there. We're now able to fix those before they get to production. The kind of information we get from Rainforest is really invaluable."
What other apps, software, or tools are critical to your QA process?
"We call it the 'Rainforest Puzzle' -- we use TeamCity to manage our testing environment. We also have YouTrack integrations for picking which browsers we want to run. We've integrated with Slack and have specific channels dedicated to Rainforest results.
What does your average week as a Rainforest PM look like?
"At the beginning, my role was building out our core suite of tests and making sure that they pass (about 200 test cases). I was spending about 50% of my work week in the Rainforest platform creating tests every day for the first 5 months or so.
After the initial phase of getting our test suite up and everyone on board, we moved into more of a maintenance mode. Now I've switched to Fridays being my Rainforest days, where I focus on running regression tests. Our team is all on board with Rainforest and everyone is responsible for owning their own tests and investigating why they failed."
What was your secret sauce that helped you ensure the success of Rainforest at iOffice?
"Because our application is large and complex, we had to make sure that the tests we write and run don't conflict with one another while we run them all in parallel against the Rainforest platform. I've created an internal guide to testing our application in particular, which helps our team write tests and understand why they need to be written a certain way.
Having this customized guide helped us get buy-in from the team and helped everyone create tests more successfully right away.
Making Rainforest an integrated and painless part of our our development lifecycle, along with the developers getting near-instant test results, proved invaluable for adoption."
What was one thing you wish you knew when you started using Rainforest?
"A lot of our first month with Rainforest spent figuring out how to create a test that is easy and effective for both us and for the testers. When I create a test now, I can create it in a couple minutes and have it pass. Focusing on learning and understanding the small details that make a test good really speeds things up."
What advice would you give to a new user about setting up Rainforest at their organization?
"When we first started, we broke apart the big project of improving QA with Rainforest into smaller, more actionable parts. For example, the first milestone we focused on was getting all of our functional tests to pass. Then we focused on getting our regression tests to pass. Setting and achieving these milestones helped other people in the organization realize the benefits of Rainforest Breaking things up and having a tactical approach helps implementing Rainforest feel like less of a huge, overwhelming project."
-
Find out more about what Sammy and his team are building at iOffice here. To learn about what our customer success team does to help teams implement Rainforest successfully, check out this blog post from Rainforest CSM Akhila Iruku.