We've made some changes to the Rainforest Command Line Interface (CLI) to make it more accessible to Rainforest users. Here's what you need to know about the updates to the Rainforest CLI:
What We're Changing about Rainforest CLI
We've switched our CLI from Ruby to Go. There are two major changes to our CLI offering as a result:
The Rainforest CLI automatically updates.
The Rainforest CLI can be used from any environment and does not require Ruby.
With the new Go-based CLI, we compile our CLI to an executable and upload it to Equinox.io. You can download and install the package for your preferred development environment (OS X, Windows or Linux).
Why We Updated to a Go-Based CLI
This update was done to get ahead of our growing customer base's needs. As Rainforest has grown, we've gained customers with a wider variety of technical preferences and set-ups. Now Rainforest customers can use our API from any language, making Rainforest's CLI compatible across a wider range of user set-ups. The new Go-based CLI will be easier for new users to adopt, which we hope will make onboarding Rainforest to your team run more smoothly.
We also wanted to make CLI management simpler for existing customers. Right now, when our team makes changes to the CLI, our customers must be notified to update their CLI manually. Automatic updates make it easier for us to ensure that our customers are using the most recent version of Rainforest CLI.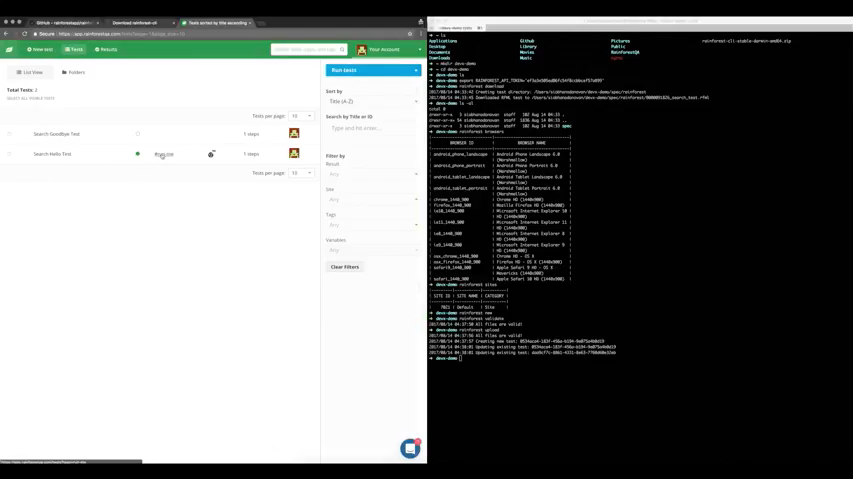 What Customers Need to Know
Existing customers who use the CLI will have to uninstall the old executable since the Go version uses the same commands, but otherwise this update shouldn't have any major impact on existing Rainforest accounts. Visit this page to view available versions and download the Go version of our CLI.
Questions? Customers can contact their CSM or ping csm@rainforestqa.com for more info on making the switch.