Bridging the Gap Between Unit Tests and Testing Automation with Rainforest QA
Many organizations are turning to continuous testing strategies in order to keep the quality of their products and features consistent. By testing early and often throughout the development process, teams can avoid costly bugs in production and ensure a high-quality experience for their customers.
Unit tests are a good foundation for continuous testing strategies and can catch most bugs early in the development cycle. Over half of IT leaders say that their new products and features evolve too quickly to use testing automation effectively. The only solution for fast-evolving products is manual testing, which is time-consuming and costly. Fortunately, crowdsourced testing has emerged as a faster alternative to in-house and outsourced manual testing. Here's how Avant uses Rainforest QA to round out their QA strategy and improve testing coverage between testing automation and unit testing processes.
Supplementing Testing Automation with Rainforest QA
Fintech company Avant creates financial tools to help their customers get the most out of their services. In order to meet their customers' extremely high standards for quality, Avant performs extensive unit testing and automated tests for each new product and feature. But performing the extensive cross-browser testing needed to ensure consistent quality is expensive and time-consuming for Avant's development team.
Avant turned to Rainforest to increase test coverage without building out a large team. This has allowed Avant to bridge the coverage gap between unit testing and testing automation suites. As a result, the Avant team is able to run comprehensive tests across the browsers their customers use. Otavio Dalarossa, a product manager at Avant, says:
"With Rainforest, you have dozens of people physically going through your application and testing things out within minutes. Most of the time you can't physically do that, especially across dozens of browsers, devices and resolutions. It creates an additional layer of stability to catch things that unit tests may not explicitly cover, and that might be too expensive to create fully automated tests for."
Getting to Continuous Testing with Rainforest
Avant relies on the Rainforest platform as a more efficient means of increasing their testing coverage and keep up with the pace of their quality assurance up with development. Rainforest integrates into their development workflow alongside Avant's existing testing automation tools to make comprehensive testing fast and accessible.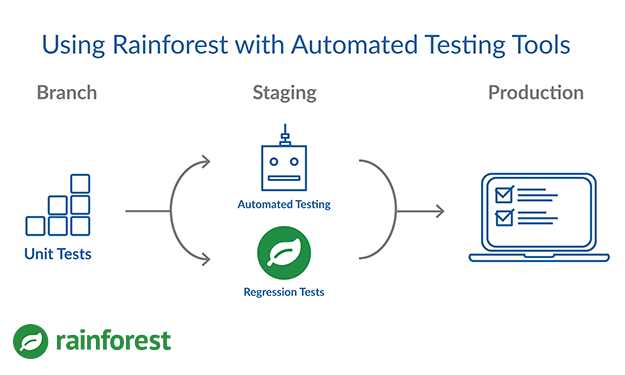 To learn more about how companies like Avant increased their testing coverage and improve product quality without slowing down development, read our case study on how Avant leverages Rainforest. Click here to read case studies now.