Webinar with Zenefits: Continuous Testing for CTOs
QA testing is often considered a bottleneck to continuous deployment, and traditional processes are ill-suited for agile CI / CD environments. In this webinar, we'll explore how continuous testing can keep your growing organization's QA costs down and empower your team to test and deploy more effectively.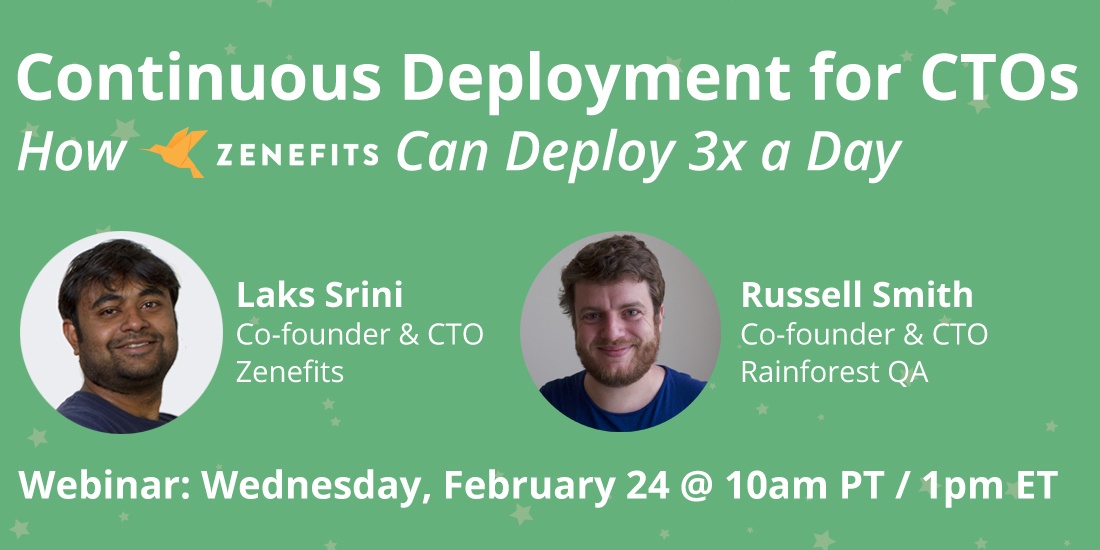 Is QA testing holding you up on the path to true continuous deployment? In our upcoming webinar, we'll be tackling continuous testing from the perspective of CTOs. Join Zenefits CTO and co-founder Laks Srini and Rainforest QA CTO and co-founder Russell Smith as they discuss their approaches to QA testing, including:
How continuous testing minimizes the cost of scaling your QA team
"Ah-ha" moments when adopting this approach
How to easily plug continuous testing into your existing Agile or CD workflow with minimal disruption
How to speed up manual QA activities to ensure fast, comprehensive testing
RSVP to attend the webinar on Wednesday, February 24 @ 10am PT/ 1pm ET with Zenefits and Rainforest QA.