I'm excited to announce Rainforest's transparency view. First, because I finally have a reason to say we're opening the kimono.
Except, apparently the Tech scene needs to be more careful with that phrasing. Instead, let's celebrate with an HR friendly adulation.
There's a lot to love about the new view.
First, how do you get to it? Open Rainforest and navigate to the results page. Click on a run. Once it expands, click one of the green (success) or red (failure) squares.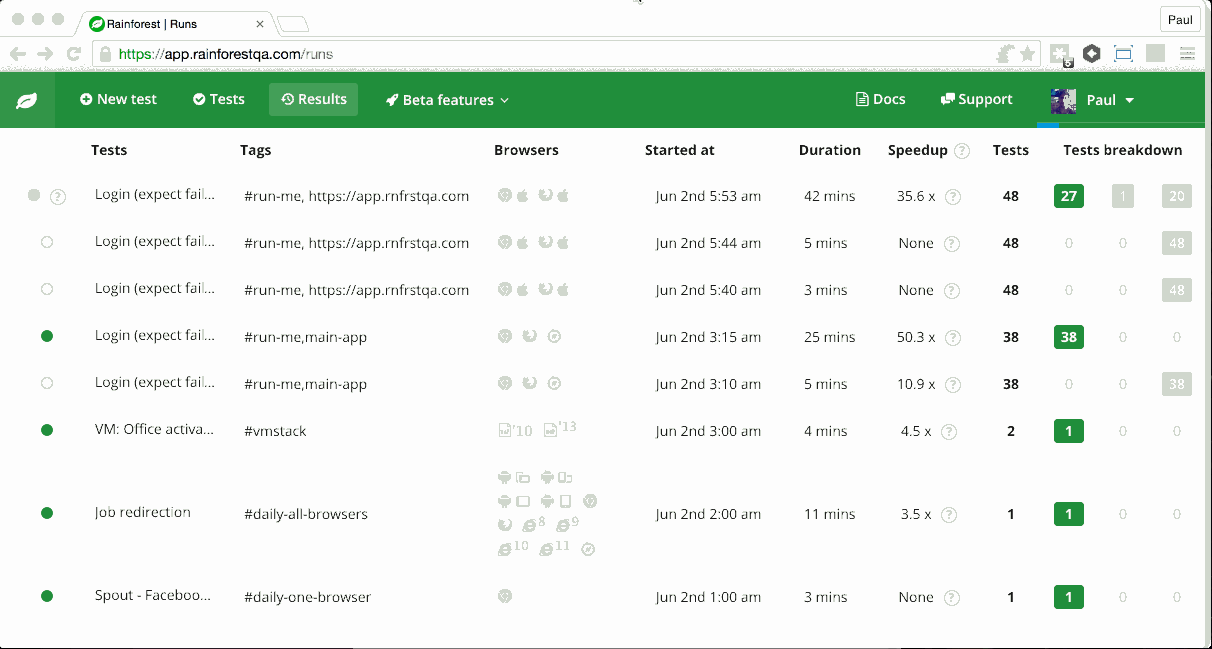 If you're using the live results beta feature, you're already there! If not, simply click on "permalink" when the overlay appears.
What's changed? At Rainforest we do a lot of ~~complicated math~~ voodoo magic to ensure you receive quality results. Great! Except for when you actually want the nitty gritty details.
Oops, that's our bad. Or, it was. With the new transparency view you...
Have more control over your testers. Ban poor performers, and reward stellar testers.
See exactly what testers are doing. Screenshots share the visual component. Hovering your mouse over a screenshot reveals step variable values.
Can easily compare test results side by side. Before, each tester's run was shown on its own page. No more! All results are now on a single screen. This enables quick and easy test comparison and review.
We see this as the first step towards a more interactive experience between you, our customer, and testers. We'll continue to abstract the ugly parts of test management. You keep moving fast, and building a kick ass product.
Let us know what you think of the new view on the Twitters @rainforestQA. And, if you haven't already, request 'live results' from the Beta list! It's our next stab of making test results more accessible.