We now return a screenshot for every single test in every single browser. I'm so excited to ship this update because, in the few weeks we've been testing it on our internal skunkwerks version of Rainforest, the product has become way more useful.
Like with all the features we're shipping, a lot of you asked for this. Thank you for your patience! All our best ideas come from our amazing customers, and thanks to a few especially persistent voices (you know who you are) the entire Rainforest community gets to benefit!
What's new?
Basically, wherever you see this little camera icon:

you can click any result to see exactly what the tester saw.
What changed?
We have always returned screenshots for failures. When you click on any failed step in Rainforest right now, you see a set of reports from the testers about what went wrong: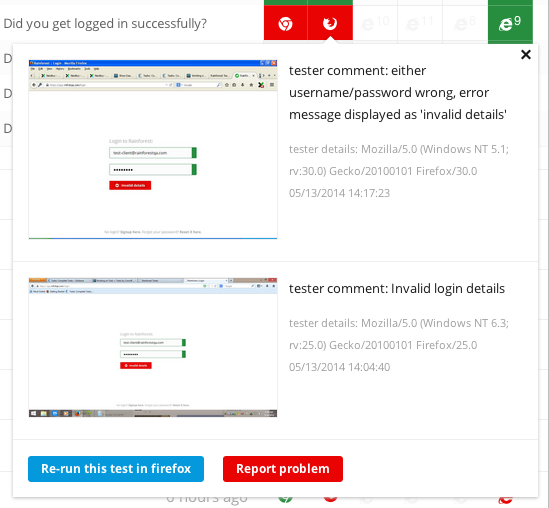 With this release, we return a screenshot for every test in every browser, regardless of whether it passed or failed: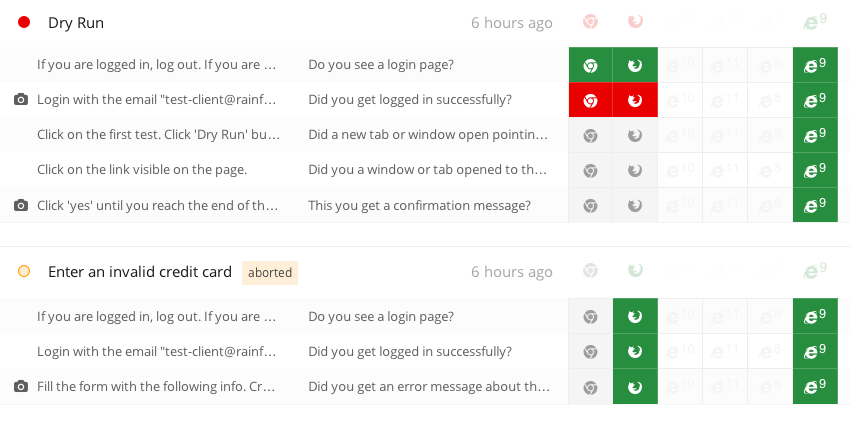 This is super useful because you can always see the final state the tester left your app in, and so if you have questions about how a flow could have passed or failed you can easily double-check that the tester ended up in the right place.
It's also great for checking cross-browser visual consistency. Let us know how you get on with it, and as always, get in touch if you have ideas on how we can improve Rainforest!